Posted - January 07 2004 : 4:57:45 PM

---
These options are all available to you.

To get e-mails for you PMs sent to you:
1) Go into you PM Inbox and click on the options button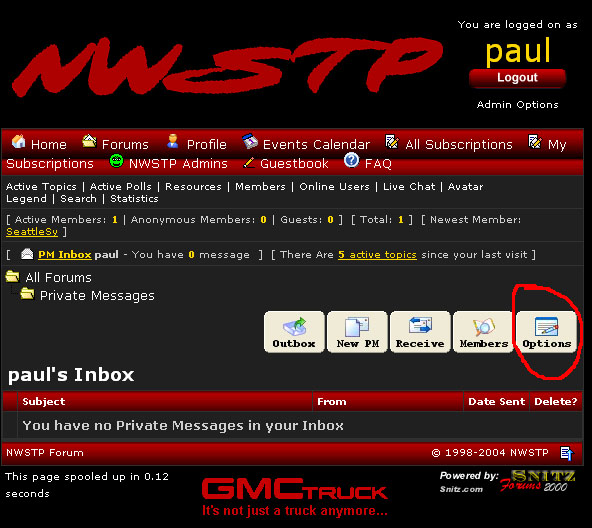 2) Make sure receive e-mail notification is turned on.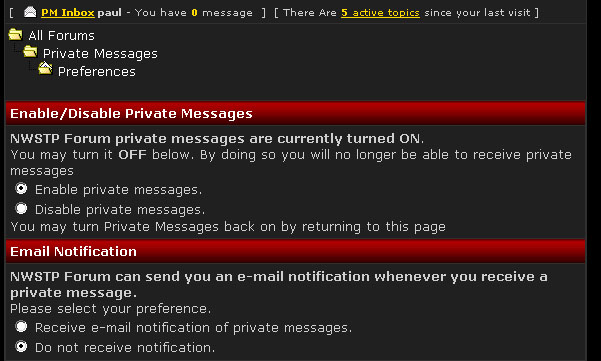 To receive E-mails for all posts made in a forum:
1) Look for the icon on the right side that looks like an envelope and click on it to subscribe to get an e-mail for every post in that forum.




Tp receive E-mails for replies to a specific TOPIC:
1) Click on the same envelope icon on the right side next to the TOPIC to get e-mails for replies on the TOPIC.




If you want to get e-mails for every post made in every forum, you have to subscribe to each Forum individually. There is no subscribe to get e-mails to all posts option.

I hope that helps.


Paul Schwab
93 Black/Black Typhoon #424
NWSTP Site Admin
Kirkland, WA
---
Country: USA | Posts: 506